Anti-Corrosion Pipe Wrapping Tapes

Application Photo (K-450, ST, SM, Primer)
 

Product Link:
Product Index & Introduction, Self-Fusion (Self-Amalgamates) Properties,
K-450, ST, ST-FR, SM, Primer, PC, Aluminum Foil Duct Tape,
Relative Products, Application Photo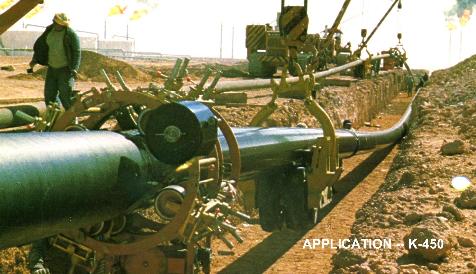 | | | | | | | |
| --- | --- | --- | --- | --- | --- | --- |
|   |   |   |   |   |   |   |
|   | |   | |   | |   |
|   |   |   |   |   |   |   |
|   | |   | |   | |   |
|   |   |   |   |   |   |   |
|   | |   | |   | |   |
|   |   |   |   |   |   |   |
|   | |   | |   | |   |
|   |   |   |   |   |   |   |
 
FURUTO's Self-Fusion (Self-Amalgamates) Anti-Corrosion Pipe Wrapping Tapes is designed as a long-terms protection solution (as a Semi-Permanent Anti-Corrosion materials), Especially for the Petrochemical Industrial's facility (above ground) in coastal region (= serious corrosion environment).
 
 
 
 
 
ATTENTION: If you are looking for a Low Price & Low Quality products (which need to be re-construction every one or two year).
Please SKIP this page. Sorry for any inconvenience may caused.
 
Product Link:
Product Index & Introduction, Self-Fusion (Self-Amalgamates) Properties,
K-450, ST, ST-FR, SM, Primer, PC, Aluminum Foil Duct Tape,

Relative Products:
Water-proof Tapes, Water-Proof Sealant, Double Sided Cloth Tape,
Anti-Corrosion Tapes, Insulating Tapes,
.