COMPANY PROFILE

PRODUCT INDEX
Adhesive Tapes

Anti-Corrosion Tapes
Self-Fusion Properties
K-450 (Outer Wrap)
ST (Inner Seal)
ST-FR (Inner Seal)
SM (Inner Sealant)
Primer (Anchor Coat)
PC (Gas Pipe Seal)
Aluminum Foil Tape
Relative Products
Application Photo


Insulating Tapes
Packaging Tapes
Masking Tapes
Double Sided Tapes
Water-Proof Tapes
Water-Proof Sealant
Marking Tapes
Other Tapes
Packing Tools
PVC Compounds
Plastic Paste
Plating Mask
Replica Food & Toy
Other Products

NEWS

SERVICE

Alliance Partners
Product Link:
K-450, ST, ST-FR, SM, Primer, PC, Aluminum Foil Duct Tape,
Relative Products: Water-proof Tapes, Water-Proof Sealant,

# ST Anti-Corrosion Pipe (Duct) Sealing Tape
[Self-Fusion (Self-Amalgamates) Type] Butyl Rubber Adhesive

Protection for Oil, Water and Gas Pipe, Flange, Valve, Weld End, Clamp...etc.
As an under-wrapping material for K-450 on pipe joint, it's also as a duct
-sealant for uneven surface of pipe flange, clamp, valve.

 
 
FURUTO's Self-Fusion (Self-Amalgamates) Anti-Corrosion Pipe Wrapping Tapes is designed as a long-terms protection solution (as a Semi-Permanent Anti-Corrosion materials), Especially for the Petrochemical Industrial's facility (above ground) in coastal region (= serious corrosion environment).
 
 
 
 
 
ATTENTION: If you are looking for a Low Price & Low Quality products (which need to be re-construction every one or two year).
Please SKIP this page. Sorry for any inconvenience may caused.
 


Also as a Duct Sealing Tape for Housing & Construction Industrial.

Duct Sealing Method for Housing (General purpose & Flame Retardant)




General Purpose Type Flame Retardant Type
 

Tape Structure: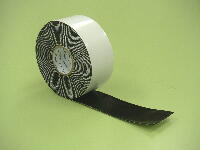 Salient Feature
 
 
 
 
 
 
 
 
 
 
 
Good electrical properties against electrolytic corrosion and pressure resistance.

As it is a perfect Self-Bonding tape, it's anti-corrosive layer forms a perfect composite whole.

Excellent electrical properties, water-proof and resistance to chemical and bacteria which are necessary for the anti-corrosive tape for steel pipeline.

Superior low temperature properties.

 

 
 

 
 
 
 
 
 
TOP
 
 
 
 
Standard Color & Sizes
 
 
 
 
 
 
 
 
 
 
 
Color
 
Black (with White Release Paper)
 
 
 
Thickness (mm)
 
1.0 (Non-Backing)
 
 
 
Width (mm)
 
40, 70,
 
 
 
Length (M)
 
5M
 
 
 
For other sizes, please Contact Us.
Also available in Log Roll Form.
Minimum quantity for custom's color: 4,000 Liner Meter per color.

** The information contained herein is subject to change without notice. Furuto shall not be liable for technical or editorial error or omissions.

 
 
 
 
 
 
 
 
 
 
 
Application Notes
 
 
 
 
 
 
 
 
 
 
 
After cleaning the pipe surface, unwinding ST (separated the release paper) with a specified lap, pulling it under tension to narrow it's width by 1 ~ 3 mm, without allowing wrinkles to form.

** In case, if using K-450 or ST Sealing Tape or SM Sealing Block in low temperature area, please combined with Primer No. 10 for increasing the Anchor Force, Adhesion Strength, and Reliabilities in Anticorrosive function between Pipe and K-450 & ST Sealing Tape or SM Sealing Block.

Application method for FRAME, CLAMP and VALVE:


1. Before treatment (Rust have to be polished off)


2. Apply PRIMER #10 as an under coating.


3. Use SM Sealing Block to fill the irregular section of Pipe.


4. Use ST Sealing Tape to be around the irregular surface of frame.


5. K-450 sheet is applied (K-450 sheet is wider than K-450 Tape)


6. Finally, K-450 Tape is wrapped over the K-450 Sheet.
(In order for double protection -- remove the wrinkles and
interstices from the frame and pipe)


 

 
 
 
 
 
 
 
 
 
 
Duct Sealing Method for Housing

It's a Self-Fusion Butyl Rubber Sealing Tape with self welding characteristic and non vulcanization.

Available 2 types:
General Purpose type (Black) for Rest Room & Bathroom duct.
Flame Retardant type (Yellow) for Kitchen area duct.

 

 
 


# ST General Purpose Duct Sealing Tape
(Use for Rest Room & Bathroom Duct)
 

Wrapping Furuto #ST Tape in stopper of socket on middle.

Then peel off the separator (Release paper)


 

 
Inserts the straight tube to the socket with strongly pushing or strike.



 
 
 
Wrapping again of Furuto #ST Tape to let it bonds strongly by the hand.
(Bestride the boundary of socket and straight tube)


 
 
 
Outer wrapping with Furuto's
K-450 Anti-Corrosion Tape.





 
 

 

 
 
 
 
 
 
TOP
 
 
 
 
More Information
 
 
 
 
 
 
 
 
 
 
 

Data Sheet (Acrobat® PDF file format)

Please get free software from here to view our Data Sheet.
 

 

 
 
Product Index & Introduction.
Self-Fusion (Self-Amalgamates) Properties.
Application Photo.

Index of Data Sheet (Full Range Product).
 
 
 
 
 
 
 
 
 
 
 
 
 
 
 

Product Link:
K-450, ST, ST-FR, SM, Primer, PC, Aluminum Foil Duct Tape,

Relative Products:
Water-proof Tapes, Water-Proof Sealant, Double Sided Cloth Tape,
Anti-Corrosion Tapes, Insulating Tapes,
.