# M120 Special PET Cloth Masker Tape ( 0.19mm )
[Weather Resistance (no adhesive residue after peel-off )]
[Heavy Duty, Strong Adhesion, Dust-proof] (Easy Tear By Hand)

Backing Material: Special PET Cloth (120 meshes),
Adhesive System: Calender Type Non-Solvent Rubber,

Application: Painting Masker for Construction Industry,
Glazing protection to avoid the storm,
Protection for Industry and Nuclear Power Plant, ...

Available color: Light Green, Blue.
 

Tape Structure: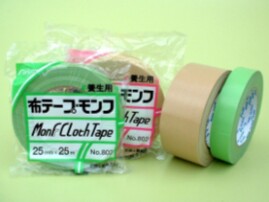 Salient Feature
 
 
 
 
 
 
 
 
 
 
 
1. Heavy duty, easy tearing by hands.

2. Special designed Thin Cloth Tape, more Flexible good workability.

3. Strong Initial Tack, Adhesion and Tensile Strength.

4. Weather Resistance (no adhesive residue after peel-off )

5. Excellent resistance to Moisture, Humidity and Dust.

6. Good workability in low temperature.
 

 
 
 
 
 
 
TOP
 
 
 
 
Standard Color & Sizes
 
 
 
 
 
 
 
 
 
 
 
Color

 
Light Green, Blue.

 
 
 
Thickness (mm)

 
0.19

 
 
 
Width (mm)



 
25, 38, 50, 75, 100, (for 25M Length)

16, 18, (for 100M & 150M Length)

 

 
 
Length (M)


 
25M, 50M.

100M, 150M.
 

 
 
For other sizes, please Contact Us.
Available Jumbo Roll Sizes: 1,370 mm X 700 M.
Also available in Log Roll Form.
Minimum quantity for custom's color: 4,000 Liner Meter per color.

** The information contained herein is subject to change without notice. Furuto shall not be liable for technical or editorial error or omissions.

 
 
 
 
 
 
 
 
 
 
 
Application
 
 
 
 
 
 
 
 
 
 
 
1. Painting Masker for Construction Industry,


2. Glazing protection to avoid the storm.

3. Protection for Industry and Nuclear Power Plant ...etc.

4. Industry use for protection the uneven surface of Machine or
Parts during transportation.

 

 
 
 
 
 
 
TOP
 
 
 
 
More Information