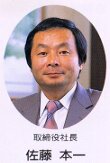 (Mr. M. Sato)

A NEW DIMENSION IN MATERIAL COMPOUND TECHNOLOGY

"PROVEN VALUE"
"UNLIMITED POSSIBILITIES"
"EVER-INCREASING POTENTIAL"


These are the reasons behind the fact that plastic compounds and rubber material compounds are a virtual gold mine in today's industrial world.

The importance of these compounds in our world is obvious; however, researchers continue working to uncover the countless uses and applications, which are still unknown to us now.

FURUTO's growing technology promises a great future for these material compounds. Here's why: Compounds consist of many different resins, polymers, alloys, composites…etc. Trough polymerization methods, we can find ways to use these different substances with varied functions to create a unique product with superior quality and ability to perform in ways much more advanced than the original, single resin or polymer.

FURUTO is stepping in stride with this course for the future. Sixty years of experience and know-how combined with fresh, energetic methodologies and creativity are the qualifications with which Furuto steadfastly pursues its search for new, improved material compounds.

『IMPRESSLON』,
『CREATION』,
『CHALLENGE』,
『FUTURE』.

These slogans describe foundation-the heart-of Furuto's purpose and outlook.

FURUTO, stable, reliable product quality capable of responding quickly to change in demand is not only goal; it is our consistent achievement.

We have invested in the most efficient, most adaptable facilities and computerized equipments, representing the foremost in modern technology.

This is the way we have found to best serve our customers and our industry. This is our commitment.