Product Link: W-503, W-513, 401, 402, 404,

Relative Products: Water-Proof Sealant, Double Sided Cloth Tape

# 401 Water-proof Single Sided Tape ( 0.5 mm )
[Self-Fusion (Self-Amalgamates) Type] Butyl Rubber Adhesive
Backing Material: PE Net.
Heavy Duty, Strong Adhesion, Water, Air & Dust-proof,
Weather Resistance.

For Construction and Automotive Industry...

.(Window Frame & Joint)


 

Tape Structure: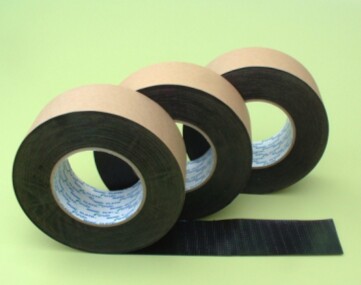 Salient Feature
 
 
 
 
 
 
 
 
 
 
 
Heavy Duty, Strong Adhesion, Water, Air & Dust-proof, Weather Resistance.

Excellent water-proof properties for sealing Window Frame & Joint.

As it is a perfect Self-Bonding tape, it's anti-corrosive layer forms a perfect composite whole. Superior low temperature properties.

 
 
 
 
 
 
TOP
 
 
 
 
Standard Color & Sizes
 
 
 
 
 
 
 
 
 
 
 
Color
 
Black (with Tan Color Release Paper)
 
 
 
Thickness (mm)
 
0.5
 
 
 
Width (mm)
 
50, 75, 100
 
 
 
Length (M)
 
20M
 
 
 
For other sizes, please Contact Us.
Also available in Log Roll Form:

** The information contained herein is subject to change without notice. Furuto shall not be liable for technical or editorial error or omissions.

 
 
 
 
 
 
 
 
 
 
 
Application
 
 
 
 
 
 
 
 
 
 
 
Use for Construction and Automotive Industry, excellent water-proof properties for

sealing Window Frame & Joint.

* Please remove dust, water, oil before using.
Please keep avoiding under the sunshine.

 

 
 
 
 
 
 
TOP
 
 
 
 
More Information
 
 
 
 
 
 
 
 
 
 
 

Data Sheet (Acrobat® PDF file format)

Please get free software from here to view our Data Sheet.
 

 

 
 
Product Index & Introduction.
Self-Fusion (Self-Amalgamates) Properties.

Index of Data Sheet (Full Range Product).
 
 
 
 
 
 
 
 
 
 
 
 
 
 
 

Product Link:
W-503, W-513, 401, 402, 404,

Relative Products:
Water-proof Tapes, Water-Proof Sealant, Double Sided Cloth Tape,
Anti-Corrosion Tapes, Insulating Tapes,
.