COMPANY PROFILE

PRODUCT INDEX
Adhesive Tapes
Anti-Corrosion Tapes
Insulating Tapes
Packaging Tapes
Masking Tapes

Double Sided Tapes
W-503 (Water-Proof)
W-513 (Water-Proof)
W-501 (Low Tack)
W-502 (High Tack)
W-505 (Acrylic+Rub.)


Water-Proof Tapes
Water-Proof Sealant
Marking Tapes
Other Tapes
Packing Tools
PVC Compounds
Plastic Paste
Plating Mask
Replica Food & Toy
Other Products

NEWS

SERVICE

Alliance Partners
Product Link: W-503, W-513, W-501, W-502, W-505,

Relative Products: Water-Proof Tapes , Water-Proof Sealant

# W-505 Dust-Proof Double Sided Tape ( 0.32 mm )
Adhesive System: (Open Side) Acrylic Based
Adhesive System: (Close Side) Calender Type Non-Solvent Rubber

Heavy Duty, Strong Adhesion, Dust-proof, (Easy Tear By Hand)

Use for holding Carpet, Poster... etc. (even on rough surface)
 

Tape Structure: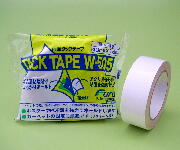 Salient Feature
 
 
 
 
 
 
 
 
 
 
 
Heavy Duty, Strong Adhesion, Dust-proof. (Easy Tear By Hand)

Good low temperature properties.

Adhesive System: (Open Side) Acrylic Based: Designed for easy to remove with no adhesive residue after peel-off.

Adhesive System: (Close Side) Calender Type Non-Solvent Rubber: Designed for offer a Strong Adhesion, suitable to use on the surface of Concrete, Wood, Plastic.

 
 
 
 
 
 
TOP
 
 
 
 
Standard Color & Sizes
 
 
 
 
 
 
 
 
 
 
 
Color
 
White (with White Release Paper)
 
 
 
Thickness (mm)
 
0.32
 
 
 
Width (mm)
 
40
 
 
 
Length (M)
 
15M
 
 
 
For other sizes, please Contact Us.
Also available in Log Roll Form: 0.32mm x 1,220mm x 15M,

** The information contained herein is subject to change without notice. Furuto shall not be liable for technical or editorial error or omissions.

 
 
 
 
 
 
 
 
 
 
 
Application
 
 
 
 
 
 
 
 
 
 
 
Use for holding Carpet, Poster... etc. (even on rough surface)

Temporary upholster (mounting and repairing) for booth in Exhibition Center.

 

 
 
 
 
 
 
TOP
 
 
 
 
More Information

Product Link:
W-503, W-513, W-501, W-502, W-505,

Relative Products:
Water-proof Tapes, Water-Proof Sealant, Double Sided Cloth Tape,
Anti-Corrosion Tapes, Insulating Tapes,
.